If you would like to launch an extraordinary Social Media Marketing website or you would just like to build one for your content marketing or social media marketing agency, then look no further! We have made this Ready-Made Website especially for you!
Its fun animations and a wide variety of beautifully styled presentational elements will let you showcase in-depth what your business is about.
Allow your customers to get immersed in your content with full-screen images, parallax video backgrounds, elegant typography, and animations.
Blog Enabled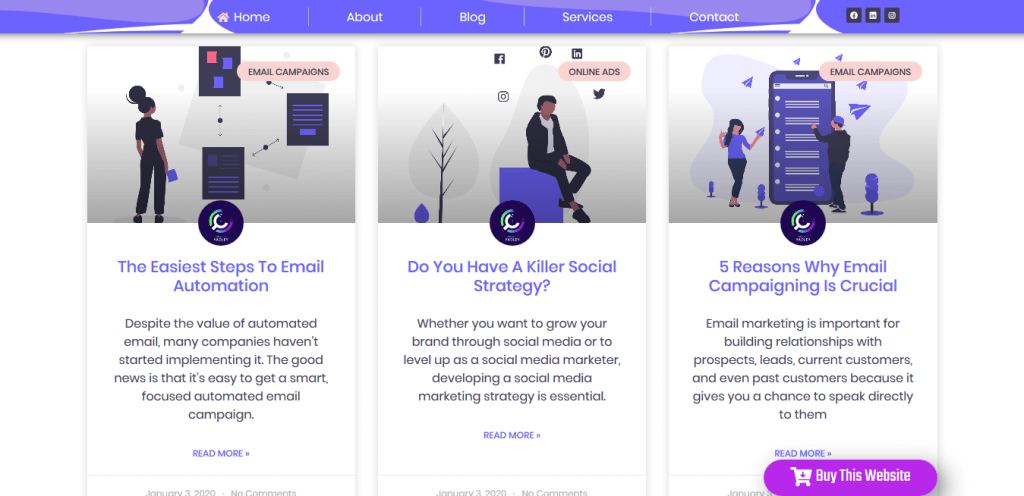 With this website`s fully configured Blog system and Facebook commenting system, you can now bring in more conversation to your website to make it socially active and interesting. Also with its social network sharing capabilities, your blog posts can be shared on various social networks like Facebook, Google+, LinkedIn and Twitter.
This website is already fully designed and ready to launch. You simply need to replace the dummy text/information on the website with your business service/product information. Adding your own logo and information will make the website unique to you and your brand. That's it – you are good to go! You can even change the colors and images using the documentation that we will provide you with when we complete setting up your website domain and hosting.
Hate the idea of DIY? If you would like us to add your business logo and service/product information so that the website is unique to you and your brand, we would be very happy to do so for an extra fee. Just add the customization option on checkout.
What are you waiting for? Grab this beauty now before the price goes up again in a few hours.